Photo by Fabrizio Verrecchia on Unsplash
Today in 2021, videoconferencing is inherent to our everyday lives. Instead of meeting our friends, family, or coworkers in person, we meet them through video calls. The quality of your laptop's built-in camera is probably not excellent, and upgrading to a webcam is going to be an additional expenditure. However, we have several alternatives instead of purchasing a webcam.
Previously, we wrote an article about using an iPhone as a webcam, and it turned out to be a reasonably straightforward process. Now, we are looking at another option, using a GoPro as a webcam. If you don't own a webcam but have a GoPro, you might want to try this out before purchasing a webcam.
Supported GoPro models:
HERO6 Black
HERO5 Black
HERO4 Black
Compatible Video Conferencing Platforms:
Zoom (v 5.0.5 and newer)
Google Meet
Microsoft Teams
Skype
Twitch via OBS
BlueJeans
GoTo Meeting
Snap Camera
Facebook Rooms
---
How to use GoPro Webcam Mode
There are two different ways to connect your GoPro, depending on the GoPro model that you have.
Newer Models (HERO9 Black and HERO8 Black)
Prepare your Gear
HERO9 or HERO8 Black
USB-C cable
Your computer
A GoPro mounting option
Install GoPro app on your computer
Download the GoPro Webcam desktop utility software on your computer.
Wait until you see a GoPro icon in your status bar.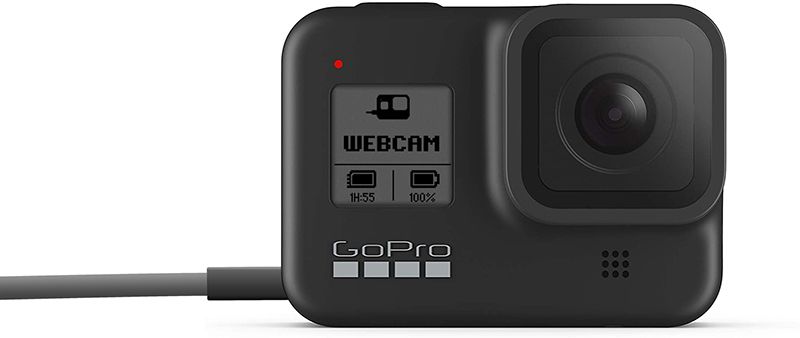 Connect your GoPro to your computer
Connect your GoPro using a USB-C cable.
A blue dot will show in the GoPro icon in the status bar, indicating that it is connected.
The GoPro will automatically go to Webcam Mode.
Select GoPro as your webcam camera
Open the video conferencing platform and select GoPro as your preferred camera.
Join the video call.
Once you are live, the GoPro icon will show a red dot.
Additional Tips:
In the preview section, you can choose to "Mirror" or "Flip" your view. You also have the option to switch your lens to a Wide, Narrow, or Linear field of view. You can do this by clicking the GoPro icon and selecting "Show Preview" in the drop-down.
Previous Models (HERO7 Black, HERO6 Black, HERO5 Black or HERO4 Black)
Prepare your Gear
GoPro camera with a Micro HDMI port for HDMI output.
HDMI-to-Micro HDMI Cable.
HDMI-to-USB video converter (we recommend this Magewell dongle).
USB charging cord + power source.
A GoPro mounting option.
Set Up Your GoPro Camera
Turn on your GoPro camera.
Swipe down and select Preferences.
Scroll down and choose Input/Output.
Select HDMI Output and change to Live.
Set Up Your GoPro HardWare
Choose a spot to mount your GoPro.
Open GoPro side door and insert micro-HDMI into the port.
Plug HDMI side into the video capture device,
Attach HDMI-to-USB converter and insert it into your computer.
Connect GoPro to a power source.
Select GoPro as your webcam camera
Open the video conferencing platform and select GoPro as your preferred camera.
Join the video call.
Recommended Mounting Options
To achieve the best angle, you will need to mount your GoPro camera. Here are several mounting options that can provide you with the best possible point-of-view.
Magnetic Swivel Clip - This is a magnetic clip that allows you to place your GoPro on top of your monitor. You can also use the magnet and stick it to other metal surfaces.
Shorty - A grab-and-go tripod that you can place on your desk.
Suction Cup - Can be used to stick to a surface like a window or a shelf.
Gooseneck - This is a bendable neck that allows you to adjust your camera POV into any position.
---
Hence, if you own a GoPro camera, you will want to try using it for your video calls before buying a webcam. If you own newer models such as the HERO9 or HERO8 Black, the process is pretty straightforward. The older models require additional steps and gears but are also worth the try.