The COVID-19 pandemic is limiting the face-to-face interactions and increasing the number of people working from home. Many companies rely on video conferencing to hold team meetings, share ideas, and check-in with each other. We bet you have tried more than one video conferencing software during this pandemic—and have suffered through one too many low-quality calls.
Video conferencing has become especially important during this pandemic. The best video conferencing software makes it simple and easy to connect online with coworkers using online video calls and meetings. We have listed a few of the best known videoconferencing apps, and most of these already have free versions. We've only included apps compatible with these platforms: Windows, macOS, Android, and iOS. Here are the best video call apps for work.
Comparison
| Provider | Price | Max Participants | Max Free-tier Participants | Free-tier Time Limit |
| --- | --- | --- | --- | --- |
| Zoom | Free-$19.90/month | 1000 | 100 | 40 minutes |
| Google Meet | Free-$18/month | 250 | 100 | 24 hours |
| Microsoft Teams | Free-$20/month | 10000 | 300 | 60 minutes |
| Cisco Webex | Free-$26.95/month | 1000 | 100 | 50 minutes |
Zoom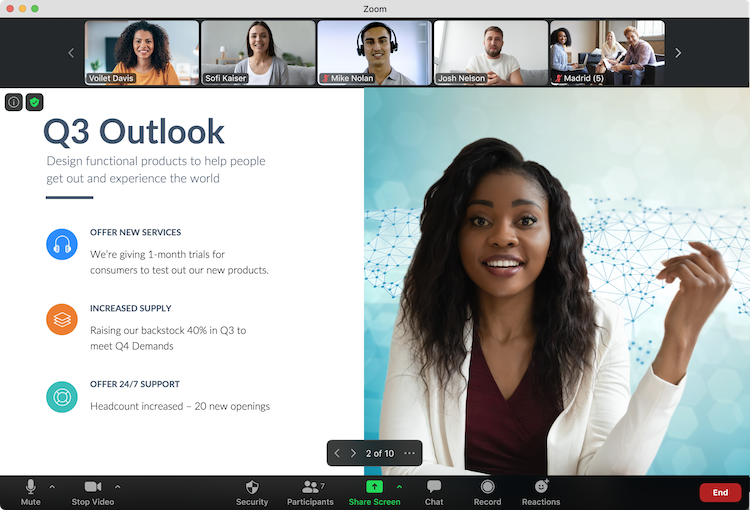 Zoom meetings offer a video conferencing and messaging solution for desktop and mobile devices. It has become one of the most well-known video conferencing apps, mainly because of its easy-to-use interface with various plans based on business size and needs. Prices range from their free plan for personal and team meetings to $19.99/month/host (with a minimum of 100 hosts) for large enterprises.
The free version of Zoom allows up to 100 users to meet, but there is a 40-minute limit on meetings of more than two people, which is, for some of us, pretty limiting.
One of Zoom's best selling point is its features; Zoom has rich useful features. Even better is that a feature-rich free tier is available and can accommodate up to 100 people for up to 40 minutes, but to include additional tools for team administration and management and more dedicated business and enterprise use.
Provides HD video and audio quality and can support up to 1,000 participants simultaneously and up to 49 videos on a single screen.
Unlimited one-on-one meetings. Up to 40 minutes call for more than two participants.
Meetings can be recorded and saved locally or to the cloud.
Participants can collaborate by sharing their screens and providing their notes as required.
The team chats feature allows for file sharing, a searchable history, and a ten-year archive.
Security is built-in, using 256-bit TLS encryption for both meetings and shared files. Also, automated scheduling can be done from Gmail, Outlook, and iCal.
Pros & Cons
Pros
Cons

Easy to use
Rich features for hosts and participants
Generous free account
Google Meet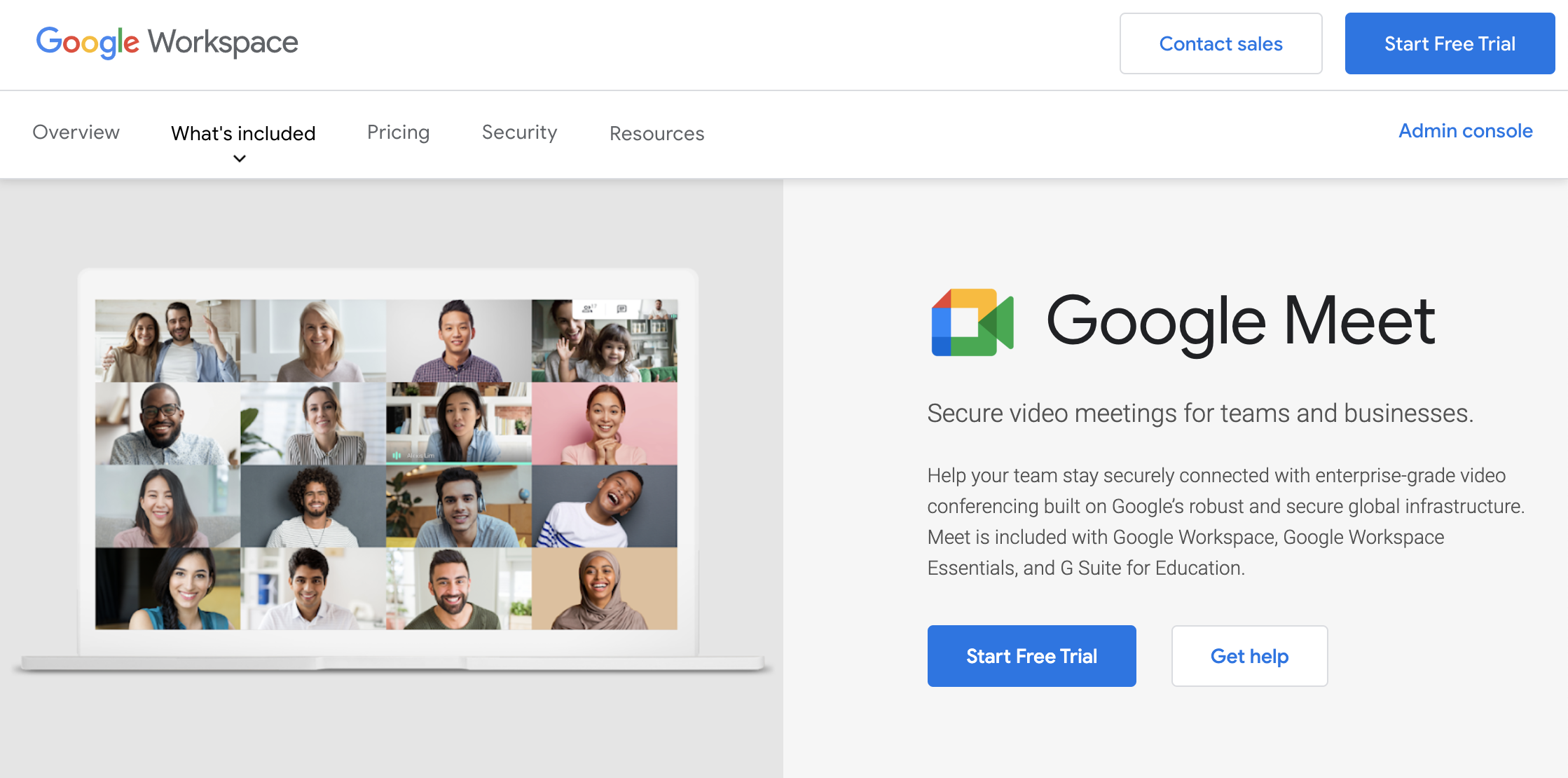 Google Meet, formerly Google Hangouts Meet, is part of the Google Workspace platform. Which also happens to be its best feature, the deep integration with other Google apps. For example, whenever you create a Google Calendar meeting, you'll get a Meet link that all the meeting attendees can click to join a call instantly. You can find files from Google Drive and Apps in the middle of a call and share them in chat without leaving your call.
Google Meet aims to provide a first-class conferencing service. It is a business-grade conferencing platform that doesn't require high up-front costs for hardware, making it incredibly accessible for businesses of any size.
Google Meet has a lot of great features. Developed specifically for business needs. It can cater to many users at once and uses smart participation and a fast interface to reduce the need to wait.
Google Meet includes live captioning, which is a massive plus for accessibility. The captions work reasonably well in English, though it can't detect multiple languages simultaneously.
There's also a tab-sharing feature that's great for media sharing, with very little lag when streaming a short video as a group.
View-only mode. This mode doesn't display participants' video, so participants will only see and hear whoever is leading the call. However, it limits participants' ability to chime in. It's a great option if you only need one or two people to present to a large group—such as in a lecture-driven distance learning class.
Unlimited time call until March 31, 2021 for free users.
Pros & Cons
Pros
Cons

Deeply integrated with Google
Easy to use and accesible
Rich features for hosts and participants
Longest call length (24 hours) compared to other apps until March 31, 2021

Unable to record meetings on lower-tier plans
Microsoft Teams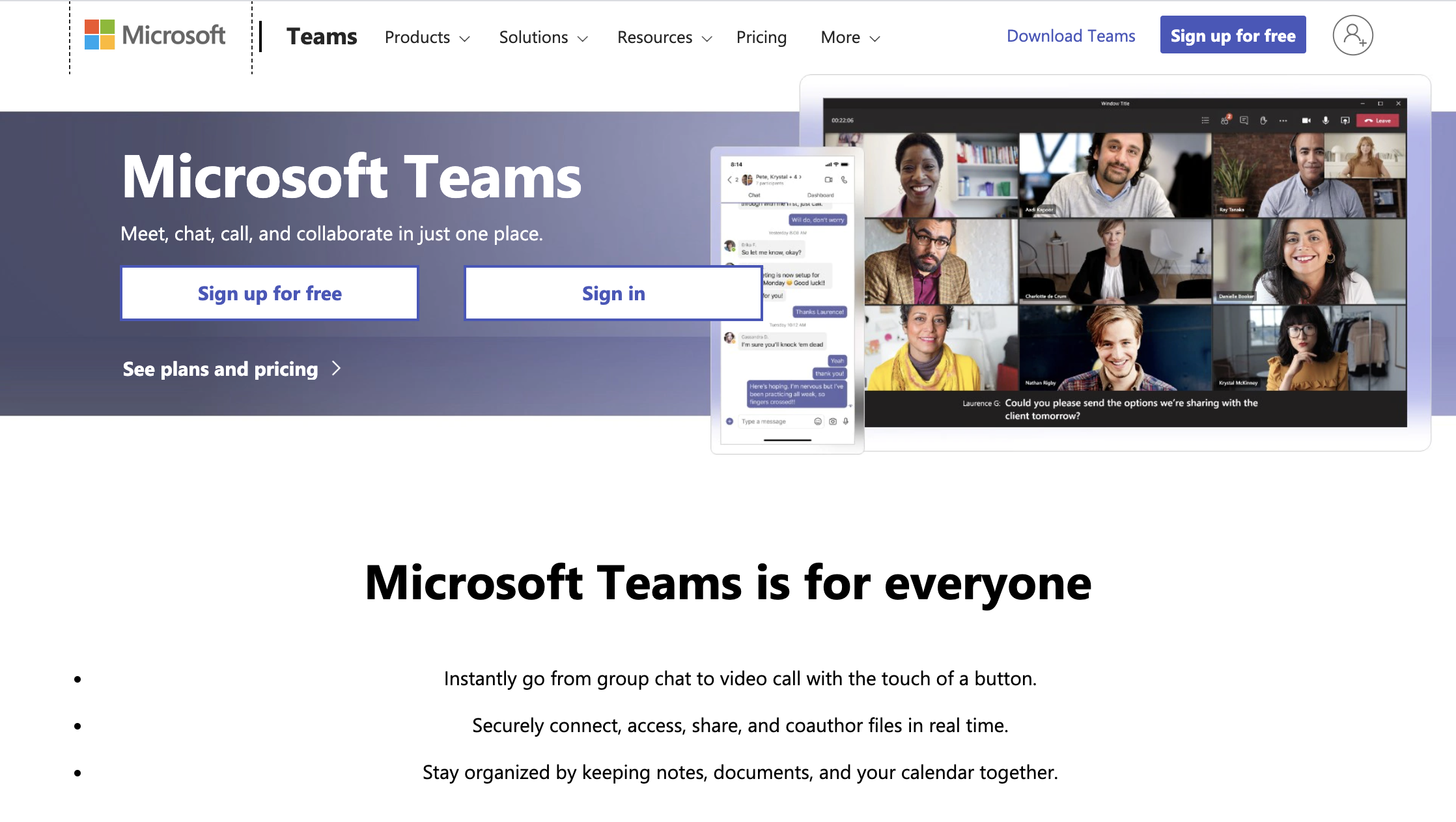 Like Google Meet, Microsoft Teams enables users to schedule a video or audio meetings with a single person or a team. Fully integrated with Microsoft 365 means that meetings can be easily scheduled and invites shared among the organization. Meanwhile, external guests can join from their web browser without downloading the application.
Microsoft Teams also provides the full range of features expected from a leading video conferencing software provider, including screen sharing, call recording, live captions, background blur technology, and chat functionalities. Integration with Microsoft 365 makes the platform the market leader in video conferencing and digital workspace integration. Overall, Microsoft Teams is ideal for businesses who already a part of the Office ecosystem or for those who are looking to reinvent their organization's digital communication and collaboration workspaces.
Pros & Cons
Pros
Cons

Deeply integrated with Microsoft 365 ecosystem
Rich features for hosts and participants
Up to 10,000 participants (most participants compared to other apps)
Text chats can include photos and audio files

Unable to record meetings on free plans
Not ideal for non Office users
Cisco Webex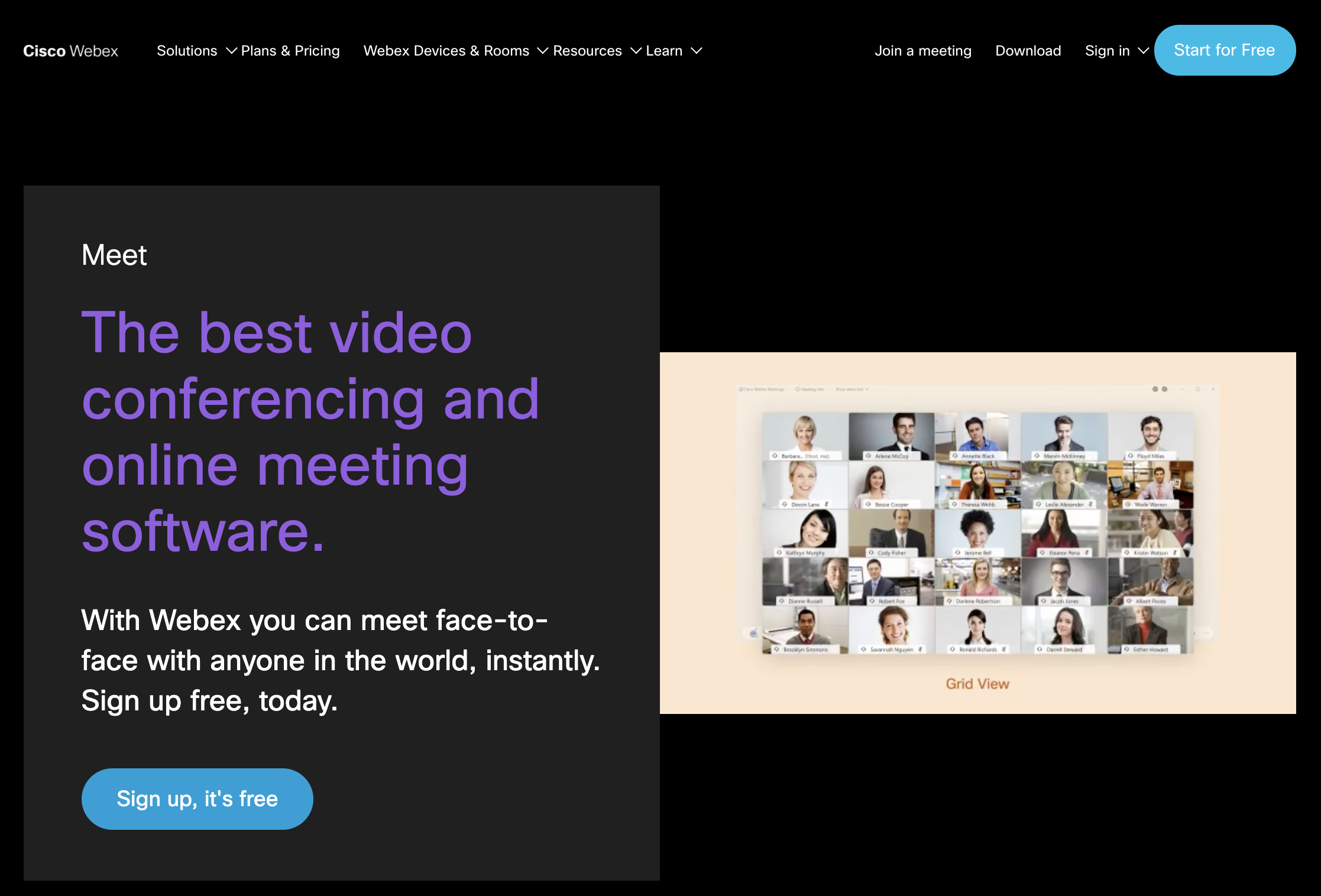 Cisco Webex Meetings has been around for quite a long time. It has been around since the '90s, and Cisco acquired it from WebEx in 2007. While it's been mainly known as a business application and focuses on serving companies, it does have a relatively generous free version. There are various plans available for Cisco Webex Meetings, but the free version should be sufficient for most circumstances.
The free package includes 1GB of cloud storage, unlimited 50-minutes meetings, up to 100 participants, and the ability to make MP4 recordings of them. The free plan also enables you to hold HD video meetings. Don't forget to take advantage of Cisco's companion Webex Teams app, which adds team chat and one-click calls to your video collaboration.
However, the noteworthy feature is Cisco Webex's virtual whiteboard. Once you start a call, you can opt to share your screen as a blank white space—and then use a wide range of sketching tools, text, and geometric shapes to collaborate. You can even create separate whiteboard "pages" and view them one at a time or navigate through them as thumbnails. Everyone can use the whiteboard at the same time.
Pros & Cons
Pros
Cons

Generous free account
Rich features for hosts and participants
Virtual whiteboard feature
Excellent data security

Expensive
End-to-end encryption not included by default
More Alternatives
GoToMeeting - mobile friendly video conferencing apps.
ClickMeeting - specialized for webminar.
RingCentral - integrated with many third-party apps such as Office 365, Google, and Slack.